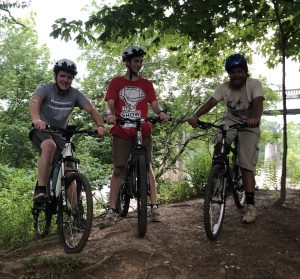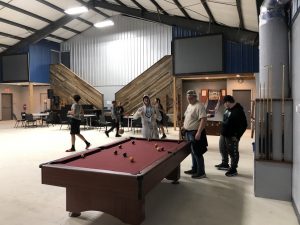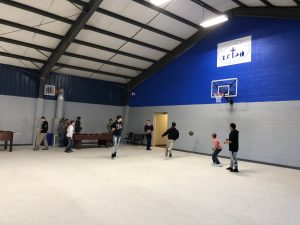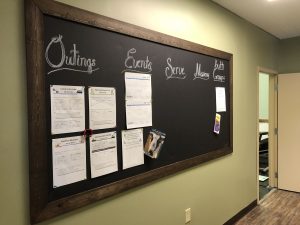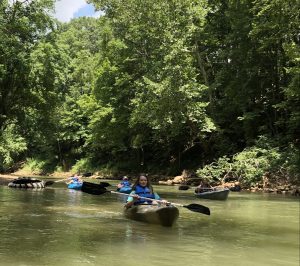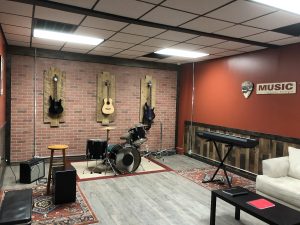 Center of the Mark Ministries, Inc.
Center of the Mark Ministries, Inc. is a 501c3 non-profit Christian ministry. Our number one goal is to share Christ, His love and His values with all those that take part in our programs. We hope to provide high quality programming to the youth of our area. That includes providing a safe and supportive environment to all youth participants while also ensuring programs offer opportunities for positive interaction, encouragement and living out a faith in Christ.
Purpose
The purpose of Center of the Mark Ministries and The Center for Teens is to empower young people to reach their fullest potential and be productive citizens of their community by providing opportunities in socialization, recreation, faith, education, leadership development, community service and workforce development.
History
Center of the Mark Ministries has been active in our area since January, 2007. We were originally founded as an outdoor ministry. We soon after evolved into a ministry that was mostly focused on sharing Christ with and mentoring young people. We have accomplished this through various activities and programs such as summer camps, mentor hunts, fishing trips, camping trips, bon fires, kayaking, archery, shooting sports, etc. After several years in ministry, we had a God given dream to establish a Teen Center where our ministry could have a positive effect on the lives of young people almost daily. The Center for Teens building was donated to the ministry by a couple who were longtime supporters of the ministry of Center of the Mark. A grant was given to Center of the Mark Ministries by The Leona B. Carpenter Foundation for the purpose of renovating and equipping the Center for Teens. A short time later, with the support of the community and Foundation, the renovations in the Center for Teens got underway and the ministry has evolved into what it is today.
Programs
Center for Teens: The Center for Teens offers an unstructured drop-in center as well a variety of structured programs and activities for youth ages 12-18. Most programs are available free of charge although some activities may charge a nominal fee to cover material costs, transportation, etc.
Drop-in at the center is available free of charge after school and on some Saturdays. The drop-in includes the Center for Teens café, snack bar, computer lab, large rec. room and meeting room; youth will generally have access to the activity area and gym but this may vary. Occasionally the gym and activity area are reserved for other programming, rentals, etc.
Participants are allowed to come and go up to two times per day. Center of the Mark Ministries, Inc. and/or Center for Teens staff are not responsible for teens after they leave the Center for Teens. Parents/guardians are expected to discuss with their teen when it is appropriate to leave the facility and with whom.
Structured activities are offered on weekday evenings and Saturdays. Structured activities include such activities/programs as Bible studies, movie nights, music studio, art events, skills classes, weight lifting/workouts, Teen Council, community service projects, outdoor adventure outings, etc.
Teen Advisory Council meets on every first Thursday of the month and is a group of ten teenage individuals who meet regularly to discuss and plan the programs and activities of the Center for Teens. TAC also plans community service projects, social events and encourages leadership development.
Wednesday evenings offers opportunities for area church youth groups to utilize the facility for their Wednesday evening youth programs. The Center for Teens otherwise closes at 5:00pm on Wednesday evenings.
Sunday afternoons, the facilities are available for church use if reserved in advance. Otherwise the Center is normally closed on Sundays.
Work Referral Program: The Center for Teens also offers an informal work referral program. Teens are referred to a member of the community who has passed a background check for tasks including yard work, housework, pet care, babysitting, etc. The Teen Center will follow up with the worker and employer to ensure work was completed and can help the youth prepare for future job referrals. Individual employers pay the youth directly for their work.
Special Events: The Center also regularly schedules special events and field trips. Field trips to amusement parks, sporting events, camping, fishing, kayaking, and other sites are generally on Saturdays during the school year and Tuesday or Thursdays during the summer. The Teen Center sponsors special events a few times per year including a New Year's Lock-In, airsoft tournaments, volleyball tournament, Art fest and Community Service Days.
The Center hosts live music, dinners and dances. Dances are for participants in grades 7th-9th or 10th-12th accordingly.
Our programs / activities
We understand Teens have a wide array of interests! That's why we have a wide range of activities and programs to try to make a connection and make a difference.