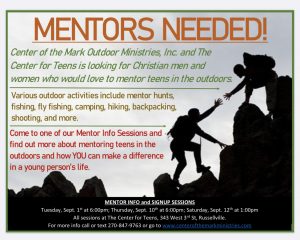 We are looking for more good Christian men and women who would love to mentor young people in the great outdoors. If you are interested in becoming an Outdoor Mentor let us know or come to one of our Outdoor Mentoring Info Sessions coming up at The Center for Teens in Russellville.
WE PROVIDE
the adventure

With so many young people today not having access to great outdoor adventures, we want to do our part in creating opportunities for teens to experience wonderful outdoor adventures in their lives! Our caring adult mentors will guide teens into the great outdoors to some of the greatest times of their lives.
Our Outdoor adventures include…
Fishing
Camping
Hunting
Kayaking
Shooting
Fly Fishing
Backpacking
Hiking
Tubing
Archery
and more
For more information about any of our Outdoor Adventures please click the contact button below to connect with us.